Actualités
---
Road fees in Germany increased by over 80% since December.
08 November 2023
From 0.19 EUR, it will nearly double to 0.35 EUR. This will be the added cost, from 1st December 2023, to drive a heavy truck with a total permissible weight over 18 tons per kilometer,
according to the new tariff approved by the Bundestag. The over-80-percent rise in road taxes will directly and dramatically translate to higher retail prices and boosted inflation.
The legislation contains two critical changes:
HIGHER ROAD TOLLS 
From 1st December 2023, the road toll tariff for heavy trucks will be altered. Apart from the Euro emission standards, vehicles will be allocated to one of five categories. The lowest category will include combustion engine trucks, meaning that regardless of the emission standards, for example, the highest Euro 6, the most significant increases will affect all vehicles of this type.
EXPANSION OF TOLLS TO VEHICLES WEIGHING OVER 3.5 TONS 
From 1st July 2024, vehicles weighing over 3.5 tons, which have thus far utilized the roads without charge, will be subject to the obligation of paying road tolls for using German highways.
New road toll tariff applicable in Germany from 1st December 2023.*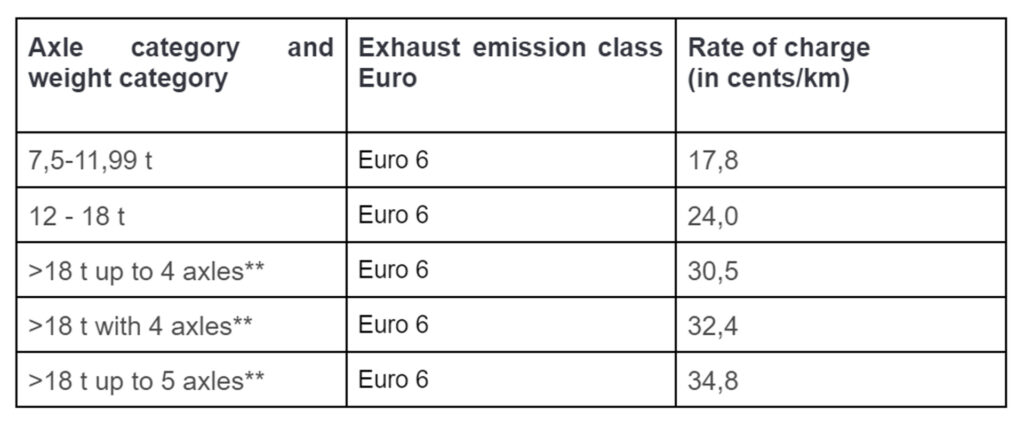 * Source: https://www.toll-collect.de/
** A double axle is counted as two axles, a triple axle as three axles. Lifting axles are always included, regardless of whether they are in use during the ride, or if they are lifted and not in contact with the road surface.
---