News
---
ADR Basics in a Nutshell – How to Transport Dangerous Goods and Cargo?
11 July 2023
Every company has its own strengths, but in the field of ADR transport, we are truly exceptional. 95% of Visline drivers have ADR qualifications. You will learn what this means for your freight from the article. The reading will take you 4 minutes.
What does ADR mean? What is ADR for? In which countries are ADR standards applied?
ADR is an abbreviation from French L'Accord européen relatif au transport international des marchandises Dangereuses par Route, meaning an international agreement on the rules for the transport of dangerous goods and cargo. The regulations were signed by 9 European countries in 1957, and over time more joined. Currently, there are over 50 signatories to the agreement, mainly European, but not only. Azerbaijan, Morocco, Turkey, Kazakhstan and Tajikistan have also acceded to the ADR.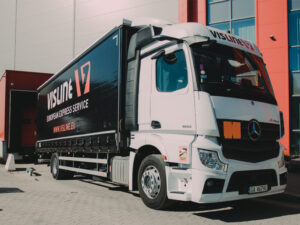 The agreement was created with the aim of improving safety in road transport and harmonizing rules on an international scale. Countries that have acceded to the convention are obliged to comply with certain rules for the transport of dangerous goods and cargo, which obliges not only senders, loaders, unloaders, recipients, but also transport companies, among others to:
appoint ADR advisers

carry out ADR transports by drivers with appropriate qualifications

comply with specific rules for packing dangerous materials

have specialist equipment and preparation for marking vehicles carrying ADR cargo

comply with traffic restrictions, including observing appropriate tunnel restrictions for ADR cargo.
The annexes to the ADR agreement are updated every two years. It is therefore worth keeping up to date with updates to transport rules.
Driver training and awareness.
Every driver transporting dangerous goods and cargo must have appropriate qualifications. A person holding an "basic" ADR certificate may undertake shipments with packaged dangerous goods of all classes except class 1 (explosives) and class 7 (radioactive materials). To transport dangerous goods of class 1 and/or class 7 and/or dangerous goods in tanks, the driver must hold an "specialist" ADR certificate. The waiting time for issuing documents is about 10-14 days.
Types of ADR courses [Poland]:
basic course – according to current regulations lasts 18 hours.

course in the field of transport in tanks with a capacity of more than 1000 liters – according to current regulations lasts 13 hours

course for the transport of class 1 materials

course for the transport of class 7 materials
The cost of an ADR course is around 120 EUR. The driver can attend training individually or be delegated by a transport company, usually at the employer's expense.
The regulations concerning the transport of dangerous goods and cargo are extensive and the driver is not obliged to know them all by heart. In case of need for detailed instruction in the field of ADR, he must be provided with support from an ADR adviser appointed by the carrier employing the driver.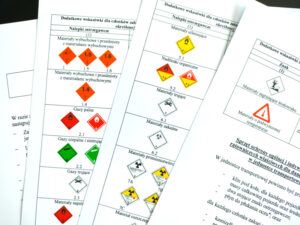 Vehicle/vehicle set equipment and marking.
Who among us has not encountered a characteristic orange rectangle on a truck? This is a marking element informing about the transport of ADR cargo. In case of transport in tanks or bulk, the board has two numbers, upper and lower (UN). The first one is a hazard identification number, the second one is a UN number of the transported goods.
It has two numbers, upper and lower (UN). The first one indicates the type of hazard, the second informs about the type of dangerous material.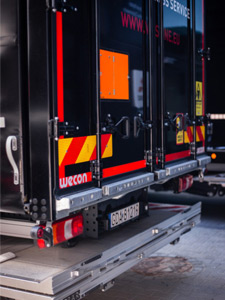 In addition to special marking, expressed additionally in graphic form, the driver is obliged to have appropriate equipment in the vehicle.
ADR regulations specify in detail what must be in each of the transport units carrying dangerous material. ADR specifies emergency equipment and personal protective equipment, depending on the hazards of the dangerous cargo vehicle being transported, and the number of fire extinguishers and the amount of extinguishing agent depending on the D.M.C of the vehicle.
Mandatory equipment for ADR transports includes primarily:
vehicle marking (transport units, e.g. tractor with trailer)

additional fire extinguishers

equipment for securing the accident site and warning system (e.g. warning triangles, eye wash fluid, chocks, flashlight, gloves, eye protection)

a set for removing released material, suitable for transported classes of goods.
Documents are equally important, among which two should be distinguished. The first is so-called written instructions in accordance with ADR – universal for all classes of dangerous goods, informing about the hazards of classes of dangerous goods and containing procedures for driver's actions in case of an accident or breakdown.
The second document is an ADR consignment note, which contains information about the classification of the transported dangerous goods. It must be drawn up in the language of the country of dispatch or, in case of international transport, also in one of the three ADR languages: FR, DE, UK.
The ADR consignment note must contain information such as:
name and address of the consignor

name and address of the consignee

information on the classification of dangerous goods starting with UN number

information on packing group (degree of hazard: I – highest , III – lowest)

quantity of goods and number of packages with goods

information on tunnel entry restrictions
Rely on Visline

If you are planning to transport an ADR cargo, contact us. Safe transport of dangerous goods is our specialty. We will be happy to help and advise you on how to best approach it. Not only are we efficient in transport – we respond to emails within a minute, by the way, see for yourself 🙂 spedycja@visline.pl
---