News
---
We have a Diamond! – Visline awarded by Forbes
14 June 2023
Visline has once again been honored with the prestigious Forbes Diamond, a ranking of Polish companies that have experienced the fastest growth in value over the past three years of operation.
Rarely does it occur that during a period of global political, economic, and social crises (inflation, the war in Ukraine, Brexit, Covid pandemic), the average annual revenue (2021 vs 2022) increases by as much as 48%. The year 2023 is proving to be more stable for the company; however, the number of orders is steadily rising, indicating that the company is on track to surpass another milestone by fulfilling 40,000 orders.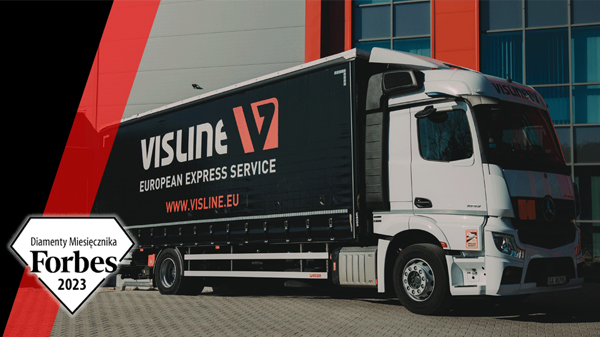 Three factors play a crucial role in the company's success: sustainable development, flexibility, and innovation. Visline has achieved its result by investing in a modern fleet tailored to stringent customer requirements, while also being fast and environmentally friendly. A goal that Visline has been successfully pursuing for years is the reduction of average fuel consumption. For example, in vehicles with a GVW of 18 tons, the company reduced fuel consumption from 22.56 liters (in 2021) to 19.79 liters (in 2022).
The fleet is not the only aspect; thanks to skilled and dedicated employees, the company is capable of swiftly and safely executing transport orders. Customer satisfaction surveys confirm this, with consistently high approval ratings. On a five-point scale, in recent years, flexibility, professionalism, and quality of communication with Visline employees have achieved scores above 4.81.
When we add ISO certification in the areas of management (9001) and environmental protection (14001), an image emerges of a company that not only sets ambitious goals but consistently achieves them.
Visline specializes in international express and full-load transport and forwarding of various types of cargo throughout Western Europe. Transport is carried out using a versatile and modern fleet of vehicles with a maximum permissible weight of 3.5 tons, 7.5 tons, 18 tons, and 40 tons – Euro 6 class. The company has 7 branches throughout Poland (Gdynia, Warsaw, Łódź, Poznań, Kościerzyna) and in Germany (Hamburg), employing over 150 people.
The Forbes Diamond is awarded to companies with the highest growth dynamics. Considering the track record of achievements thus far, it is almost certain that the leader in the transport and forwarding industry, distinguished by the characteristic red V in its logo, will once again be among the Forbes laureates next year.
---